Save $100 on 4 New Pads & Rotors
All Brake Services Include:
All 4 Brakes Visual Inspection

All 4 Brakes Inspection Report

Pad Thickness
Pad Life Estimate
Rotor Condition
Safety Concerns

Premium Quality Parts & Labor

Premium Brake Pads
Premium Rotors
Professional Installation
Calipers Adjustment
Lubricate Brake System

Multi-point Vehicle Inspection

Engine & Transmission
Battery & Electrical
Struts & Suspension
Oil, Lube, Fluids
Heating & AC
Accessories
Brake Pads & Rotors
Looking for the best deal on brake pads & rotors in Provo? You found it. Right now Cougar Tires in Provo is offering a great DISCOUNT on brake repair! The average cost for a complete brake repair around the Utah Valley area including new pads, rotors and labor typically ranges from around $300 to $600 or more, depending on the make and model of your vehicle.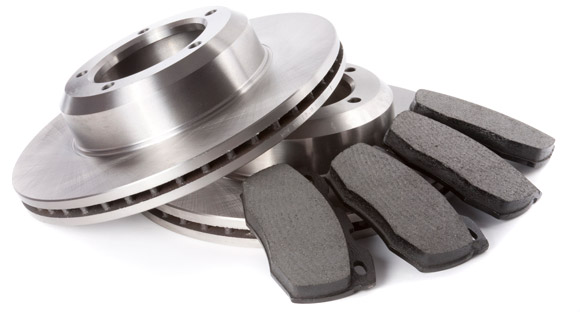 Here is a typical breakdown of parts and labor for a brake service on light duty vehicles in Provo.
$150 – $300 Rotors (per axle)
$30 – $60 Break Pads (per axle)
$120 – $240 Labor (per axle)
Total: $300 to $600 or more
The reality is you can easily spend up to $800 or even $1,000 on brake service depending on several factors. It can get a bit expensive. Most shops want you to apply for a credit card or make you jump through other hoops to get a discount.
Not here. Cougar Tire offers a straight up, no strings attached discount. Why? Because we want to earn your business. We know that if we do a great job on your brakes, we have a chance to keep you coming back for future service and maintenance. And although this is truly the cheapest price on brake service in Provo, when it comes to your safety and our reputation, we don't skimp on parts or labor. These are premium parts installed by professionally trained brake service technicians.
This brake service discount is offered on most vehicles including all light duty cars and SUVs, regardless of make or model for customers located in Provo, Orem, Vineyard, Lindon, Springville, and surrounding areas and for any student attending BYU or UVU. For trucks and other heavy duty vehicles, please call for special pricing discounts and savings.
At Cougar Tire, our brake technicians are specially trained on all the latest service methods, safety procedures, and brake technologies for all makes and models and with our automotive brakes discounts, we guarantee the absolute best deal on brake service in Provo!
Start with a free brake inspection
Brakes perform a crucial function in your vehicle's stopping power. But brake pads and rotors naturally wear out over time. That's why it's a good idea to schedule a brake inspection. We recommend getting your brakes inspected at every oil change interval, or about 3,000 to 5,000 miles. There's no better place in Provo to get your brakes inspected, repaired, or replaced than Cougar Tire.
If you live in or around Provo, Utah and think you might be due for a brake service, feel free to stop in for a free brake inspection. No need for an appointment, we'll get you in and out in about 30 minutes.
What's included in our free brake inspection
Undercarriage inspection: The first thing we do in our free brake inspection is to put your vehicle on a lift to raise it high enough to inspect for potential damage under the car, in and around your brakes and axles. We specifically look for fluid leaks and anything out of the norm.
Brake pad inspection: The most obvious concern with brakes is the brake pad thickness. A new brake pad will be around 12mm (1/2″) thick. Pads with sensors typically begin to signal when they get down to around 3mm (1/8″). You'll hear a squeal when you hit the brakes or see a warning light on the dash if pads get worn down to 3mm or less. Most manufacturers recommend replacing pads when they reach 3mm or are about 75% worn out. We use a special measuring device to get precise measurements on thickness and look at the general condition of the brake pads. We will advise you on the exact thickness of all 4 brake pads and make recommendations so you can make an informed decision about when to replace them. And of course we will notify you of any potential safety hazards.
Visual brake calipers inspection: We remove all four wheels and check the brake calipers. We are looking to verify that the calipers are working properly, move freely and are properly lubricated. If we notice that one or more of the calipers aren't working properly, we'll note that as a safety concern in our inspection report and talk to you in person about it.
How our mechanics perform this brake service
Confirm the thickness of the remaining material on the brake pads. If the pads are less than 2 mm in thickness, pad replacement is recommended.
Inspect the surface of the pads and rotors for scoring, pitting, grooves or rust and anything unusual and will show you photos of your pads if we find damage to your brake pads.
Inspect the calipers, torque plate, pads, and rotors to ensure the caliper is operating freely. Sometimes calipers can't get stuck open or closed causing excessive wear or problems with breaking. We'll make sure they're moving freely and correctly.
Install new premium quality brake pads based to original OEM specifications.
Lubricate brake system components like caliper sliding pins.
We will also inspect the condition of the brake fluid and top it off if needed. If we see your brake fluid has contaminates or needs replacing, we'll make that recommendation to you on the spot so you can decide whether you want us to change the brake fluid.
Perform a basic 50 point inspection on your vehicle and provide you with a full report of items we checked and verified for safety and normal operation of your vehicle.
Once we complete the replacement of your brake pads and rotors and finish the job right, we'll test drive your vehicle to confirm that your brake system is operating and functioning properly.
All of automotive services here at Cougar Tire are backed up with the strongest National Service Warranty in the business. And with every purchase we include free roadside assistance – towing, flat tire changes, lockout service, jump starts, and more – honored nationwide.
Brakes FAQs
Brakes will "squeal" when your brake pads become worn or glazed over. This is a common and intended feature to let you know it's time for a brake pad replacement. Depending on whether your brakes are drum brakes or disc brakes, your brakes can accumulate brake dust which can also make the brakes squeak when you apply the brakes. This can usually be fixed by cleaning the brake dust out of the system, applying brake spray which can help quiet the squeak, or if replacing the brake pads and rotors.
Why Cougar Tire for Brake Services in Provo?
Cougar Tire has the best-in-class National Service Protection Plan to give you the peace of mind that when we service your vehicle, you are protected and backed up Nationwide.
View Protection Plan
Best-in-class brake service in Provo: When you choose Cougar Tire to service your vehicle's brakes, we take it seriously. Our highly-qualified automotive brake specialists are the best mechanics Provo has to offer. Our techs are specifically trained to service all modern vehicle brake systems and technologies. We have certified brake technicians on staff that know how to do the job right. Our brake mechanics are required to take up-to-date training courses to they are always at the top of their game when it comes to handling one of the most important functions of your vehicle – brakes.
Affordable brake services: While we aim to save you money on brakes, we don't sacrifice quality, service, safety, or attention to detail. We know you work hard for your money and we want to earn your business with the least expensive brake services in Provo. But brakes are no place to skimp on quality or safety. We only use the highest quality parts serviced by the most advanced and highly trained brake technicians that know what it takes to get it right. When you choose Cougar Tire for your next brake service, you'll have the confidence of knowing your brake job is done right, at an affordable cost.
Free Roadside Assistance 24/7: Every purchase you make at Tire Pros – from tire services to repairs – comes with free Roadside Assistance 24 hours a day, 7 days a week. We've always got your back.
Includes:
Free Towing & Lockout service

Free Flat Tire Changing Assistance

Free Fuel & Fluids Delivery

Free Jump Starts